Steeplechase – What's the rush?
I'm a novice handler, why would I want to enter a steeplechase competition?
Good question. Maybe you strive to progress and move forward in your training? Maybe you want to know what it feels like to run a more advanced course? If you want a chance to test your abilities, Steeplechase Tournaments are a good way to get your feet wet. They are fluid, fast moving courses involving some technical skill, but mainly built for speed. USDAA describes these courses: "The Steeplechase course is designed to encourage speed and accuracy as the competitors face a course of hurdles and tunnels, with an A-frame and weave poles on course."
It's good practice to not only run the Steeplechase course, but also to experience the walk-through. It might expose you to an unfamiliar situation. Lots of experienced handlers enter these runs and will be walking the course all at the same time.  Don't let this intimidate you. Anyone can enter, no matter the level, no matter the qualifications. If your dog is handling a normal agility course at a reasonable speed then you may enjoy running these courses.
Even though I'm competing with Emma and Bandit at Starters & Advanced level, I have started trying us out at some Tournament courses.  I enjoy the challenge. I feel the pressure of competing at a higher level, but just for fun. This aspect makes this run fun for us. Some of the biggest challenges for us are with the planning stage. Walking a course with lots of other handlers can be distracting and I have to work much harder at focusing on the task at hand. This is something I feel is good exercise for both me and my dogs.
If any novice handlers want to move forward and would like to get a taste of higher level of competition, Steeplechase is a good place to start. When I compare our scores to the handlers I respect and admire, I see promise of what's to come. The last trial we went to our scores weren't far off the level needed to win. I like seeing that the end goals are starting to feel within reach.
So how do you play Steeplechase? What are the rules?
It's not as scary as it seems at first.
You enter it as you would any run. Check the box on your entry form, pay your money. There are no requirements to enter. Then you are added to the running order list, just like any other run. There are two classes to run. Championship program and Performance. You may already know that Performance is basically the same as Championship, only run at one jump height lower.
On the day of the Steeplechase run, the trial club will set out the maps for the day, including the Steeplechase map. Pick it up, study carefully. Have in mind how you might handle the course so that when they call for the walk-through, you can make best use of your time. Practice physically and mentally what you want to tell your dog on course.
Each class is divided up into the different heights, just like any other run. The judges will want to keep it running quickly, so be sure to be lined up ready to go. They will often want you to enter the ring as the prior runner is completing a specific obstacle. This helps keep the large group moving quickly so as not to make the day drag out longer.
As far as scoring, they take your time and add faults.  So the lowest score would be the winner. Plus they take a percentage of competitors (see USDAA official rules) to qualify to move on to the next round on the next day. This is usually scheduled with the 1st round on Saturday, 2nd round on Sunday. The actual structure for winning and moving up can be a bit complex, but don't worry about that right now. When you start qualifying in this run, you can learn more about the details.
This is an exert from USDAA website:
"$10,000 Dog Agility Steeplechase® Championships
Beginning in 1997, this tournament event was developed to demonstrate the competitor's ability to work with speed as they feature their skills in training and performance of a special jumpers course. In addition to numerous jumps and hurdles on course, the A-frame and weave poles are included as a special demonstration of the two most dynamic obstacles in the dog agility, for which difficulty of performance increases with speed. The tournament's "time plus faults" scoring method accentuates the importance of speed combined with accuracy in performance.
Events are open to all competitors regardless of past performance experience and are held in designated cities across North America, the Caribbean and Japan. Competitors must meet qualification standards as set forth in the tournament rules each year in order to earn the right to compete at the world championship event. The tournament is conducted as a two round event at both the local and championship levels, with top seeds from the first round advancing to the final round where they run for top money. Cash prizes range from a few dollars to several hundred dollars at the local level, with prize money of $10,000 paid out in the championship finals. Tournament rules for the current year can be found in the Forms and Documents Library."
It's a very fun course with lots of opportunities to challenge yourself. Jump that hurdle into the next level of competition!
Here are some course map examples: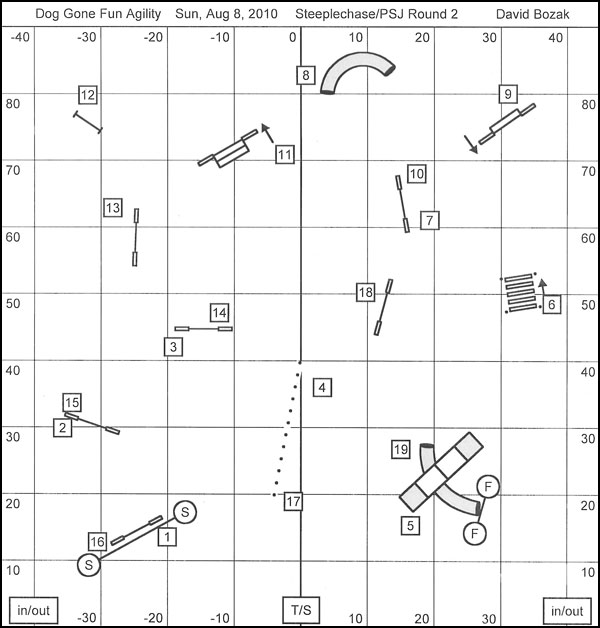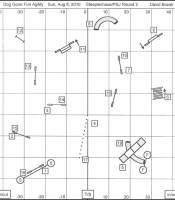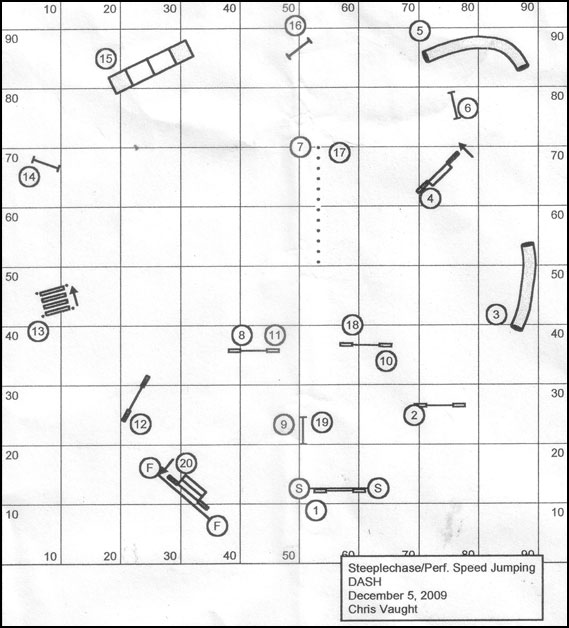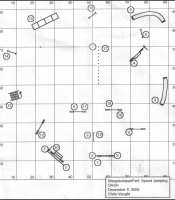 You can find these and other examples at http://agilitycoursemaps.com/ a great resource for preparing and training for different types of courses.
https://thatsmysuperdog.com/wp-content/uploads/2015/12/aussiejumping-sm.jpg
263
350
Stephanie
https://thatsmysuperdog.com/wp-content/uploads/2015/10/logosm1.png
Stephanie
2015-12-19 16:38:44
2017-08-12 19:51:34
Steeplechase – What's the rush?